Seasonality, typicality, tradition and innovationthese are the principles on which the Hotel Maestri's cuisine is based. A hotel-home, where you can enjoy traditional local dishes prepared with the creativity and the wisdom of chef Claudio and with the affection and experience of 60 years of Nonna Tina.
It is the expanded concept of the family management, that guides us. Offer the guest the attention that is reserved for those at home.
The raw materials are all genuine and when possible zero kilometre: the catch of the day from the area, local or national fruit and vegetables.
To offer  traditional quality dishes e international specialities prepared with the finest ingredients and regional particularities.
Three menus for all tastes are available every day for lunch and dinner, with a choice of meat and fish specialities or the vegetarian menu.
Can't miss at the end of a meal seasonal fresh fruit, sorbet e cakes made in our bakery.
To complete your meal a wine list with local proposals and Italian excellence.
A few precautions for the respect of all guests: 
We do not demand elegance, but we do like composure. It is recommended that you come to the restaurant with appropriate attire, do not enter in a swimming costume or shirtless.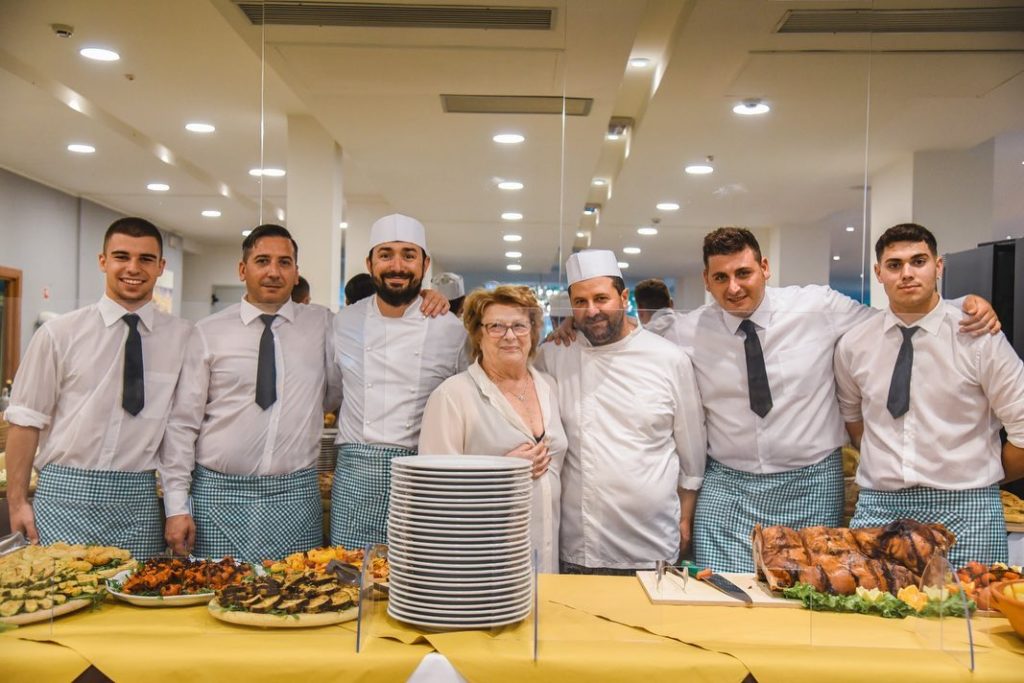 La Romagna has always been known as land of flavours but also of fun so, once a week, the hotel hall is the setting for a rustic Romagna dinner.
Yellow paper tablecloths, the scent of freshly cooked piadina, the aroma of passatelli broth, and, in the background, the notes of the Casadei orchestra's ballroom dancing, all accompanied by a good glass of Sangiovese wine will make you savour Romagna authenticity and thecheerfulness of the Maestri Busignani family.
Because customers are not all the same...
A' special attention is dedicated to the preparation of menus for guests vegetarians, celiacs o with food intolerances.
We are not a certified coeliac hotel, as the dishes are cooked in the kitchen itself, but knowing the necessary procedures for preparing meals we can cater for those who are intolerant to gluten, lactose and other allergens. We always recommend that you let us know when you make your reservation so that when you arrive, we, together with the kitchen and dining room staff, will be able to help you with the choice of dishes.